Storytelling With Data
Storytelling With Data is a series of articles analysing a company's past operating performance and the valuation of its stock. The charts are generated from ten years' worth of financial data and visualized on a dashboard developed by me. I will occasionally feature a company, give my analysis and finally value the company using the Discounted Cash Flow model and Dividend Discount Model. Do note that the analysis is on the visualized data and not a deep dive into the management's strategy.  Additionally, this is not a buy or sell recommendation, but a case study to educate investors. This article will feature the prominent TV streaming service: Netflix.
Introduction
Gone are the days of looking up TV program, clearing up your schedule to catch a TV series, and having to wait a day for the next episode when the show leaves you on a cliff hanger. Shows and movies could now be streamed on demands and at your convenience. With a flat subscription fee, you could access all the content the streaming service has to offer. Personally, I like subscription based digital service as it guarantees steady recurring income and scalability.
However, the fantasy of all content under one streaming service was a short-lived one. Netflix's success in an industry with so many established entertainment conglomerates has forced its competitors to adopt similar strategy. Additionally, these competitors, whom used to distribute content through Netflix, had started pulling out their content for their own streaming service. With this development, the industry faces the danger of the customers reverting to illegally downloaded videos rather than paying subscription to multiple services. In view of these threats, Netflix started sponsoring/producing their own exclusive content. In spite of the well-intended and arguably necessary effort, this move instead put Netflix in a harmful vicious cycle of pouring more resources each year to attain decreasingly convinced prospect customers and to retain less loyal customer base.
Income Statement
The company's revenue has increased exponentially from as far back as 2010. With regard to net income, the company attained a Return of Equity of above 20% in the last 2 years. However, I must caution that the revenue and net income are deceivingly high due to some accounting methods which I will touch on later in the article.
Balance Sheet
Netflix has a debt-laden balance sheet. Currently, non-currently liability constitutes 58% of the asset. Moreover, the debt/equity ratio had been increasing since 2013 to present level of 1.9. At the current level of debt, the interest coverage is at just 4.8 times, meaning the company spends close to 21% of its gross income on debt servicing.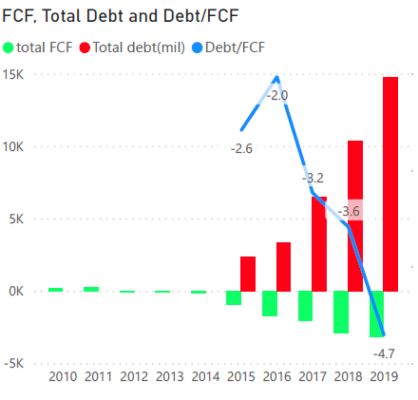 To make matters sound more unappealing, Netflix's current ratio is currently under 1, indicating its inability to meet short term obligations. The final nail in the coffin for me was the ever increasing negative free cash flow. Coupled with the increasing debt level, the ability for Netflix to pay off its debt is improbable with the current financial trajectory.
Cash Flows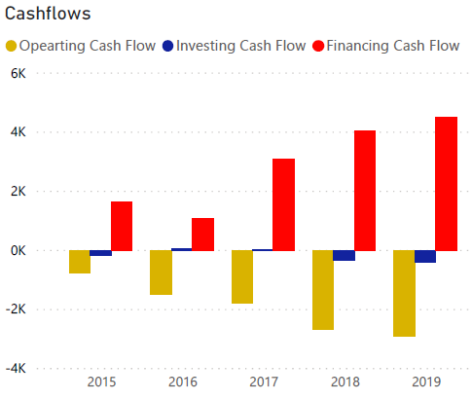 Despite aforementioned positive and increasing net income, operating cash flow is increasingly negative since 2015. Upon examining the latest annual report of the company, it was revealed that Netflix pours monstrous amount of resources into producing its own films and at a higher cost each year to keep providing the range of content to the users. And with a touch of accounting magic, these expenses are written down by amortizing the production costs over a number of years. Hence, the company could still realize positive net income despite the huge sum of money spent that year on content creation as shown in the operating cash flow.
Coupled with increasingly negative operating cash flow, the company financing cash flow had been positive and increasing since 2016. This highlighted that the company had been issuing shares and taking on debts to sustain its business.
Valuation
My model assumes an expected average market return of 10% and the conservative risk free interest rate of 2%.
For discounted cash flow model, my model projects the next 10 years' operating cash flow growth using the average growth rate from the last 3 years (-26%). Unfortunately, my model is optimised for positive operating cash flow. Therefore, we are in a scenario of "rubbish-in, rubbish-out", in which you get useless result whenever you feed the model useless data. The returned valued of -$14.28 is not accurate and should be drastically lower due to the increasingly negative operating cash flow expected over the next 10 years. Even so, at the time of writing, the current stock price ($429.13) is still laughably overvalued.
Netflix do not pay dividends (thank goodness). Therefore, there is no valuation using the Dividend Discount Model.
Conclusion
Given the competitive environment Netflix is operating in, I can understand and agree to a certain extent on the management's strategy. I love their product and the convenient it has brought into my life. However, from an investment point of view, the company is a sinking ship with the current strategy and financial management. The inability for the company to not only generate positive cash flow, but also worsen their financial situation with each passing year, made the stock worthless.
Like the charts and wish to use them to help you in making your investment decision?
You can obtain the booklet containing the charts and valuation for 90 most liquid stock listed on SGX here, and 50 largest USA company by market cap here.